The Townsman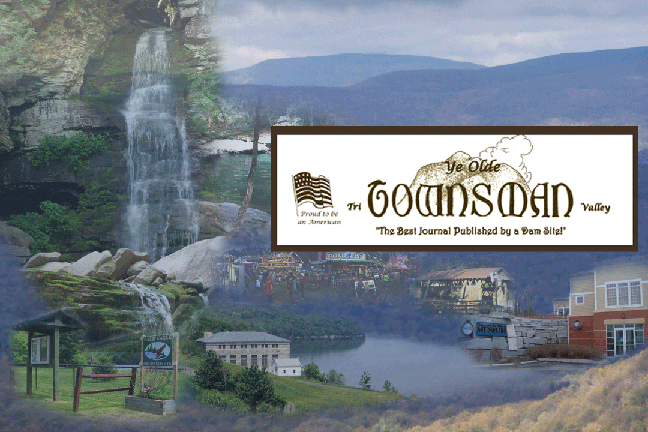 This Week's Issue of
Ye Olde Tri-Valley Townsman
VOL. 16 NO 21 MAY 28 2020 - Click Here
We are in the process of linking to website sources provided by advertisers, municipalities and organizations in each on-line issue of Ye Old Tri-Valley Townsman. When you see a link that is active, you will be able to click on it and it will take you to a separate website. This is especially important for organizations such as the Town of Neversink and the Town of Denning, as well as other municipalities that are continually providing updated information on COVID-19, closings and postponements as well as links to forms, new regulations, etc. At this time there may not be a link back to The Townsman. We suggest when you click on a link to either open it in a separate tab or window in the drop down menu or you may use your back button to get back to The Townsman. We hope this information will be helpful for all who are now reading The Townsman on-line from computers, cell phones or tablets.
Stay safe and stay well.
PUBLIC HEALTH NOTICE
Kingston barbershop with COVID-19 positive employee has been operating illicitly
County health officials recommend anyone who has received a haircut at a Kingston barber shop on Broadway in the past three weeks promptly seek testing for the coronavirus.
KINGSTON, N.Y. - Ulster County Health Commissioner Dr. Carol Smith announced today that a Kingston barber who has been providing haircuts during the last few weeks at a barbershop on Broadway has tested positive this week for the COVID-19 virus. Anyone who has received a haircut in a Kingston barbershop in the last three weeks is urged to promptly contact their primary care physician and seek testing, or contact the Ulster County COVID-19 hotline at (845) 443-8888. During the ongoing New York Pause directives from Gov. Andrew Cuomo, no barbershops, beauty salons, nail salons or other personal hygiene services are allowed to be open and operating for fear of spreading the potentially deadly virus.
"We are taking extraordinary measures to try and minimize the spread of this dangerous disease and learning that a barbershop has been operating illicitly for weeks with a COVID-19 positive employee is extraordinarily disheartening," said Dr. Smith. "As much as we would all like to go out and get a professional haircut, this kind of direct contact has the potential to dramatically spread this virus throughout our community and beyond. I urge anyone who has received a haircut at a Kingston barber in the last several weeks to immediately contact their physician or call our hotline to arrange for a diagnostic test."
For additional information about COVID-19, please visit:
https://ulstercountyny.gov/coronavirus
Ulster County COVID-19 Hotline: 845-443-8888
NYS Coronavirus Information Hotline: 888-364-3065
_________________________

Greetings from your friends at the Daniel Pierce Library!
We miss all of you and we hope you are all staying healthy. As many of you know, Governor Cuomo extended NY on PAUSE until May 15th. So, we will continue to be closed until it is safe to re-open. During this time our building has been cleaned and disinfected to keep our patrons safe and healthy when we are able to be in the library again.
Even though we're closed, we are still available to help with any online needs you may have. RCLS member libraries have increased our e-content to make sure we have as many titles available to you as possible. Did you know that in addition to having access to e-books and audiobooks, you have access to hundreds of magazines online as well as online databases like Consumer Reports?
In addition to our online resources, DPL staff are working to provide online programming for you. Here are some of the online programs we have available:
- Storytime with Miss. Deirdre is posted every day at 9 a.m. on our Facebook page.- Crafts with Miss Geri is posted on our Facebook page at 2:00 pm on Tuesdays and Thursdays- Cathy's Family Favorites will continue to be posted on our Facebook page. Our next video will be posted this Wednesday at 2:00 pm!
In addition to those programs, Helena Claire Pittman is continuing to work with the DPL Painters online. If you would like to join the group email: jdymond@rcls.org. You can see all of their work through the link available on the Adult page of our website www.danielpiercelibrary.org.
Don't hesitate to reach out to us with any questions. We are checking our voicemails daily. You can call us at 845- 985-7233Adult Circulation: ext. 100

or

Children's Circulation: ext. 101
_______________________________________
During the COVID-19 Pandemic, The Townsman will continue to bring our local news to our on-line readers. While we cannot print our weekly publications during this crisis, we have changed the on-line format of the paper to 8 1/2"x11" that can be printed out on a home printer. We encourage people to print out copies of The Townsman and perhaps pass them on (safely) to someone who does not have a computer.
Face Masks are desparately needed for our local health care workers. We can all help.
Please CLICK HERE for instructions how to make a face mask to be used by our local health care workers during the COVID-19 Pandemic
Thank you All and Stay Safe and Stay Well!
For some extra reading...
Chimes of Freedom - by John D. McKenna
The Ticket - by John D. McKenna
---
Due to the recent COVID-19 Crisis and the uncertainty of the future we have made a very difficult decision – we will only be offering The Townsman on-line. Beginning July 2, 2020 we will begin mailing online subscriptions of The Townsman. You will receive a copy in your designated email by Wednesday morning each week The Townsman is published. We will continue to bring the same local news as in the past. We appreciate everyone's understanding and continued support.
Please stay safe and stay well.
If you wish to sign up you may either use your Debit/Credit Card (PayPal) or send your payment via regular mail to: The Townsman, P O Box 232, Grahamsville, NY 12740.
On-line Legacy
VOL. 16 NO 20 MAY 21 2020 - Click Here
VOL. 16 NO 19 MAY 14 2020 - Click Here
VOL. 16 NO 18 MAY 7 2020 - Click Here
VOL. 16 NO 17 APRIL 30 2020 - Click Here
VOL. 16 NO 16 APRIL 23 2020 - Click Here
VOL. 16 NO 15 APRIL 16, 2020 - Click Here
VOL. 16 NO 14 APRIL 9, 2020 - Click Here
VOL. 16 NO 13 APRIL 2, 2020 - Click Here
VOL. 16 NO 12 MARCH 26, 2020 - Click Here
VOL. 16 NO 11 MARCH 19, 2020 - Click Here
VOL. 16 NO 10 MARCH 12, 2020 - Click Here
VOL. 16 NO 9 MARCH 5, 2020 - Click Here
VOL. 16 NO 8 FEB 27, 2020 - CLICK HERE
VOL. 16 NO 7 FEB 20, 2020 - CLICK HERE
VOL. 16 NO 6 FEB 13, 2020 - CLICK HERE
VOL. 16 NO 5 FEB 6, 2020 - CLICK HERE
VOL. 16 NO 4 JAN 30, 2020 - CLICK HERE
VOL. 16 NO 3 JAN 23, 2020 - CLICK HERE
VOL. 16 NO 2 JAN 16, 2020 - CLICK HERE
VOL. 16 NO 1 JAN 9, 2020 - CLICK HERE
VOL. 15 NO 47 DEC 19, 2019 - Click Here
VOL. 15 NO 46 DEC 12, 2019 - Click Here
VOL. 15 NO 45 DEC 5, 2019- Click Here
VOL. 15 NO 44 Nov 21, 2019 - Click Here
VOL. 15 NO 43 Nov 14, 2019- Click Here
VOL. 15 NO 42 Nov 7, 2019 - Click Here
VOL. 15 NO 41 OCT 31 2019 - Click Here
VOL. 15 NO 40 OCT 24 2019 -Click Here
VOL. 15 NO 39 OCT 17 2019 - Click Here
VOL. 15 NO 38 OCT 10 2019- Click Here
VOL. 15 NO 37 OCT 3 2019 - Click Here
VOL. 15 NO 36 SEPT 26 2019 - Click Here
VOL. 15 NO 34 SEPT 12 2019 - Click Here
VOL. 15 NO 33 AUG 29 2019 - Click Here
VOL. 15 NO 32 AUG 22 2019 - Click Here
VOL. 15 NO 31 AUG 15 2019 - Click Here
VOL. 15 NO 30 AUG 8 2019 - Click Here
VOL. 15 NO 30 AUG 1 2019 - Click Here
VOL. 15 NO 28 JULY 25, 2019 - Click Here
VOL. 15 NO 31 AUG 1 2019 - Click Here
VOL. 15 NO 27 JULY 18, 2019 - Click Here
VOL. 15 NO 26 JULY 11, 2019 - Click Here
VOL. 15 NO 25 JUNE 27, 2019 - Click Here
VOL. 15 NO 24 JUNE 20, 2019 - Click Here
VOL. 15 NO 23 JUNE 13, 2019 - Click Here
VOL. 15 NO 22 JUNE 6, 2019 - Click Here
VOL. 15 NO 21 MAY 30 2019 Click Here
VOL. 15 NO 20 MAY 23 2019 - Click Here
VOL. 15 NO 19 MAY 16 2019 - Click Here
VOL. 15 NO 18 MAY 9, 2019 - Click Here
VOL. 15 NO 17 MAY 2, 2019 - Click Here
VOL. 15 NO 16 APR 25, 2019 - Click Here
VOL. 16 NO 15 APR 18, 2019 - Click Here
VOL. 16 NO 14 APR 11, 2019 - Click Here
VOL. 16 NO 13 APRIL 4, 2019 - Click Here
VOL. 16 NO 12 MARCH 28, 2019 - Click Here
VOL. 16 NO 11 MARCH 21, 2019 - Click Here
VOL. 15 NO 10 MARCH 14, 2019 - Click Here
VOL. 15 NO 9 MARCH 7, 2019 - Click Here
VOL. 15 NO 8 FEB 28, 2019 - Click Here
VOL. 15 NO 7 FEB 21, 2019 - Click Here
VOL. 15 NO 6 FEB 14, 2019 - Click Here
VOL. 15 NO 5 FEB 7, 2019 - Click Here
VOL. 15 NO 4 JAN 31, 2019 - Click Here
VOL. 15 NO 3 JAN 24, 2019 - Click Here
VOL. 15 NO 2 JAN 17, 2019 - Click Here
VOL. 15 NO 1 JAN 10, 2019 - Click Here
VOL 5 NO 49- DECEMBER 17, 2009 Townsman in PDF Format - Click here
VOL 5 NO 48- DECEMBER 10, 2009 Townsman in PDF Format - Click here
VOL 5 NO 47- DECEMBER 3, 2009 Townsman in PDF Format - Click here
2009 Winter Wonderland at Bi-Centennial Park Photo Album
VOL 5 NO 46- NOVEMBER 19, 2009 Townsman in PDF Format - Click here
VOL 5 NO 45- NOVEMBER 12, 2009 Townsman in PDF Format - Click here
VOL 5 NO 44- NOVEMBER 5, 2009 Townsman in PDF Format - Click here
VOL 5 NO 43- OCTOBER 29, 2009 Townsman in PDF Format - Click here
VOL 5 NO 42- OCTOBER 22, 2009 Townsman in PDF Format - Click here
VOL 5 NO 41- OCTOBER 15, 2009 Townsman in PDF Format - Click here
VOL 5 NO 40- OCTOBER 8, 2009 Townsman in PDF Format - Click here
VOL 5 NO 39- OCTOBER 1, 2009 Townsman in PDF Format - Click here
VOL 5 NO 38- SEPTEMBER 24, 2009 Townsman in PDF Format - Click here
VOL 5 NO 37- SEPTEMBER 17 , 2009 Townsman in PDF Format - Click here
VOL 5 NO 36 - SEPTEMBER 10 , 2009 Townsman in PDF Format - Click here
VOL 5 NO 35 - SEPTEMBER 3, 2009 - NEW FEATURE - You can now download the Townsman in PDF - Click here for PDF download
VOL 5 NO 34- AUGUST 27, 2009 - NEW FEATURE - You can now download the Townsman in PDF - Click here for PDF download