The Townsman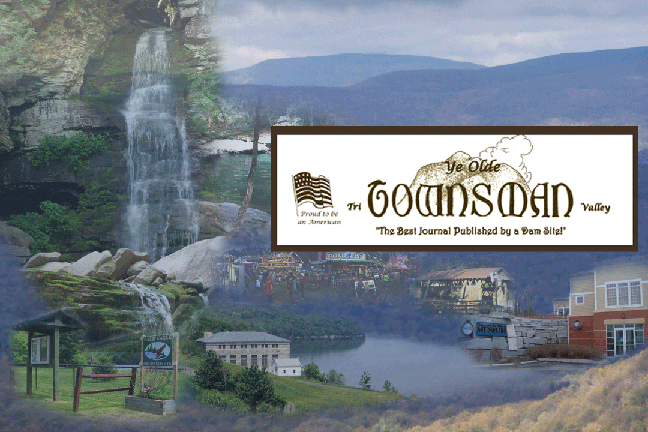 This Week's Issue of Ye Olde Tri-Valley Townsman
VOL. 16 NO 13 APRIL 2, 2020 - Click Here
The Tri-Valley Central School April 1, 2020 Board Meeting will be held on-line at 6:00 pm and can be viewd on YouTube at:
https/www.youtube.com/watch?v=G4DU16PLSNg
Face Masks are desparately needed for our local health care workers. We can all help.
Please CLICK HERE for instructions how to make a face mask to be used by our local health care workers during the COVID-19 Pandemic
Thank you All and Stay Safe and Stay Well!
---
Do you want to have the Ye Olde Tri-Valley Townsman delivered to your home mailbox each week?

Buy now - subscription (within the USA mainland) or renew your subscription

On-line Legacy

VOL. 16 NO 12 MARCH 26, 2020 - Click Here

VOL. 16 NO 11 MARCH 19, 2020 - Click Here

VOL. 16 NO 10 MARCH 12, 2020 - Click Here

VOL. 16 NO 9 MARCH 5, 2020 - Click Here

VOL. 16 NO 8 FEB 27, 2020 - Click Here

VOL. 16 NO 7 FEB 20, 2020 - Click Here

VOL. 16 NO 6 FEB 13, 2020 - Click Here

VOL. 16 NO 5 FEB 6, 2020 - Click Here

VOL. 16 NO 4 JAN 30, 2020 - Click Here

VOL. 16 NO 3 JAN 23, 2020 - Click Here

VOL. 16 NO 2 JAN 16, 2020 - Click Here

VOL. 16 NO 1 JAN 9, 2020 - Click Here

VOL. 15 NO 47 DEC 19, 2019 - Click Here

VOL. 15 NO 46 DEC 12, 2019 - Click Here

VOL. 15 NO 45 DEC 5, 2019 - Click Here

VOL. 15 NO 44 Nov 21, 2019 - Click Here

VOL. 15 NO 43 Nov 14, 2019 - Click Here

VOL. 15 NO 42 Nov 7, 2019 - Click Here

VOL. 15 NO 41 OCT 31 2019 - Click Here

VOL. 15 NO 40 OCT 24 2019 - Click Here

VOL. 15 NO 39 OCT 17 2019 - Click Here

VOL. 15 NO 38 OCT 10 2019 - Click Here

VOL. 15 NO 37 OCT 3 2019 - Click Here

VOL. 15 NO 36 SEPT 26 2019 - Click Here

VOL. 15 NO 34 SEPT 12 2019 - Click Here

VOL. 15 NO 33 AUG 29 2019 - Click Here

VOL. 15 NO 32 AUG 22 2019 - Click Here

VOL. 15 NO 31 AUG 15 2019 - Click Here

VOL. 15 NO 30 AUG 8 2019 - Click Here

VOL. 15 NO 29 AUG 1 2019 - Click Here

VOL. 15 NO 28 JULY 25, 2019 - Click Here

VOL. 15 NO 27 JULY 18, 2019 - Click Here

VOL. 15 NO 26 JULY 11, 2019 - Click Here

VOL. 15 NO 25 JUNE 27, 2019 - Click Here

VOL. 15 NO 24 JUNE 20, 2019 - Click Here

VOL. 15 NO 23 JUNE 13, 2019 - Click Here

VOL. 15 NO 22 JUNE 6, 2019 - Click Here

VOL. 15 NO 21 MAY 30 2019 - Click Here

VOL. 15 NO 20 MAY 23 2019 - Click Here

VOL. 15 NO 19 MAY 16 2019 - Click Here

VOL. 15 NO 18 MAY 9, 2019 - Click Here

VOL. 15 NO 17 MAY 2, 2019 - Click Here

VOL. 15 NO 16 APR 25, 2019 - Click Here

VOL. 16 NO 15 APR 18, 2019 - Click Here

VOL. 16 NO 14 APR 11, 2019 - Click Here

VOL. 16 NO 13 APRIL 4, 2019 - Click Here

VOL. 16 NO 12 MARCH 28, 2019 - Click Here

VOL. 16 NO 11 MARCH 21, 2019 - Click Here

VOL. 15 NO 10 MARCH 14, 2019 - Click Here

VOL. 15 NO 9 MARCH 7, 2019 - Click Here

VOL. 15 NO 8 FEB 28, 2019 - Click Here

VOL. 15 NO 7 FEB 21, 2019 - Click Here

VOL. 15 NO 6 FEB 14, 2019 - Click Here

VOL. 15 NO 5 FEB 7, 2019 - Click Here

VOL. 15 NO 4 JAN 31, 2019 - Click Here

VOL. 15 NO 3 JAN 24, 2019 - Click Here

VOL. 15 NO 2 JAN 17, 2019 - Click Here

VOL. 15 NO 1 JAN 10, 2019 - Click Here

VOL 5 NO 49- DECEMBER 17, 2009 Townsman in PDF Format - Click here

VOL 5 NO 48- DECEMBER 10, 2009 Townsman in PDF Format - Click here

VOL 5 NO 47- DECEMBER 3, 2009 Townsman in PDF Format - Click here

2009 Winter Wonderland at Bi-Centennial Park Photo Album

VOL 5 NO 46- NOVEMBER 19, 2009 Townsman in PDF Format - Click here

VOL 5 NO 45- NOVEMBER 12, 2009 Townsman in PDF Format - Click here

VOL 5 NO 44- NOVEMBER 5, 2009 Townsman in PDF Format - Click here

VOL 5 NO 43- OCTOBER 29, 2009 Townsman in PDF Format - Click here

VOL 5 NO 42- OCTOBER 22, 2009 Townsman in PDF Format - Click here

VOL 5 NO 41- OCTOBER 15, 2009 Townsman in PDF Format - Click here

VOL 5 NO 40- OCTOBER 8, 2009 Townsman in PDF Format - Click here

VOL 5 NO 39- OCTOBER 1, 2009 Townsman in PDF Format - Click here

VOL 5 NO 38- SEPTEMBER 24, 2009 Townsman in PDF Format - Click here

VOL 5 NO 37- SEPTEMBER 17 , 2009 Townsman in PDF Format - Click here

VOL 5 NO 36 - SEPTEMBER 10 , 2009 Townsman in PDF Format - Click here

VOL 5 NO 35 - SEPTEMBER 3, 2009 - NEW FEATURE - You can now download the Townsman in PDF - Click here for PDF download

VOL 5 NO 34- AUGUST 27, 2009 - NEW FEATURE - You can now download the Townsman in PDF - Click here for PDF download